The Eugene Swim and Tennis Club features 8 Indoor and 5 Outdoor permanently lined Pickleball courts.

---
Pickleball Court Schedule
Monday through Friday: Members are able to reserve indoor courts 4a & 4b between the hours of 6:00am-9:30am, 12:30pm-3:30pm and 8:00pm-9:30pm.
Every Day of the week: Indoor practice courts 9 & 10, Drop in from 6:00am-8:00am
Friday, Saturday and Sunday: Indoor practice courts 9, 10 & 11, Drop in 5pm-Close.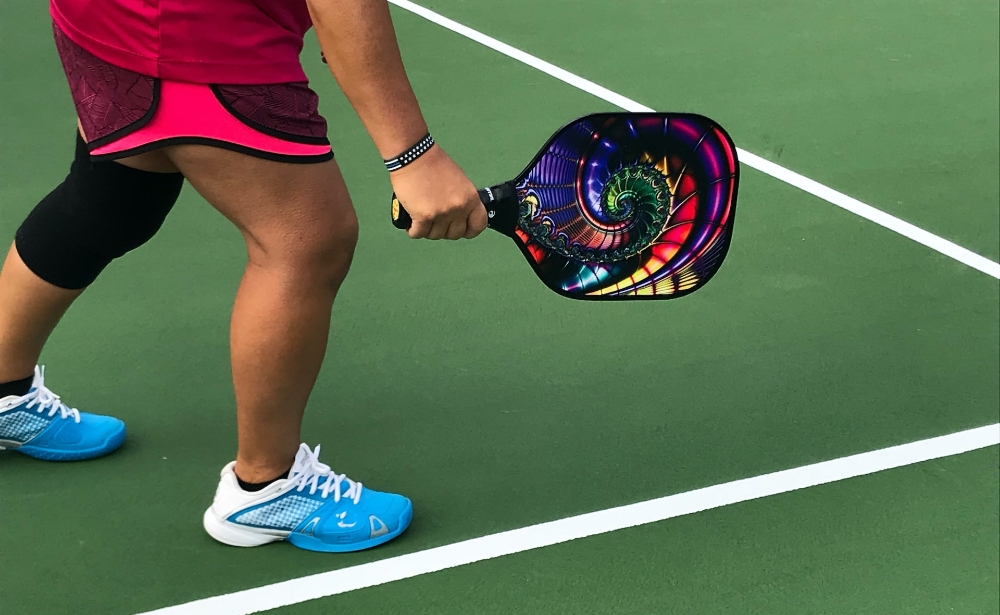 Pickleball is a game for all ages and abilities.
Designed to be easy to learn and easy to play, pickleball is played on a badminton-sized court with wood paddles and a ball similar to wiffle ball, but slightly smaller.
Unlike tennis, where the game is often won and lost by the power of the serve, pickleball requires the ball to bounce once on each side before volleys are allowed.
The simplicity of the game makes it appealing to a large audience and is one of the fastest-growing sports in America!
---
Pickleball Lessons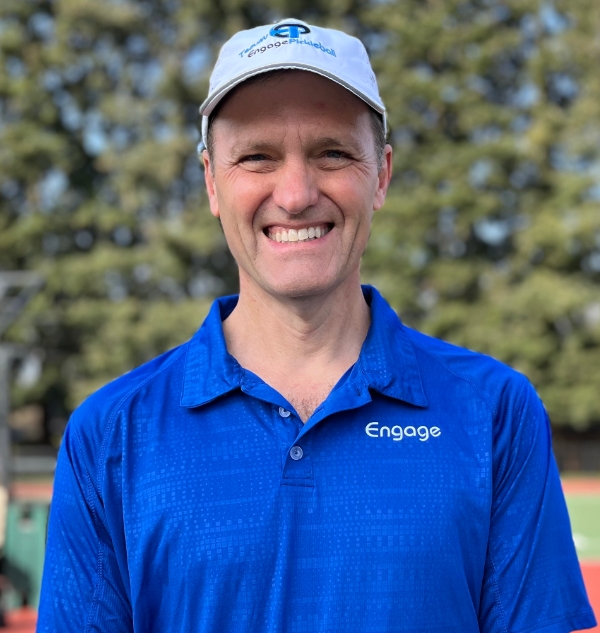 Eric Wold, Pickleball Professional
ericw@estc.org
Eric has been active in sports, either as a player or coach, his entire life. He was a 3-sport athlete in high school and played tennis collegiately at Lewis and Clark College in Portland, where he was named a national NAIA Scholar Athlete following his senior season. Eric discovered pickleball in 2016, and he is now a regular medalist at regional and national tournaments at the 5.0 and Senior Pro levels. He is sponsored by Engage Pickleball.
Eric has a passion for coaching pickleball and he stays current on the latest pickleball strategies and techniques. Eric is a Certified Professional with the Professional Pickleball Registry (PPR) and a Certified Instructor with the International Federation of Pickleball (IFP). He has been coaching in the Eugene-Springfield area since 2019.. He offers lessons and clinics to players of all ages and abilities – for people new to the sport and those looking to elevate their games for tournament play. Eric is committed to helping everyone advance their game, build a quality pickleball foundation, and reach their full potential.
To schedule a lesson with Eric, please email him at ericw@estc.org. Whatever your goal, Eric can help you achieve it.
Private Lesson Rates
| | |
| --- | --- |
| One Hour Private Lesson (1 person) | $65 |
| One Hour Semi-Private Lesson (2 people) | $70 ($35 per person) |
| One Hour Semi-Private Lesson (3 people) | $78 ($26 per person) |
| One Hour Semi-Private Lesson (4 people) | $92 ($23 per person) |
All appointments or lessons not canceled with a 24 hour notice will be billed.
---
Pickleball Memberships
2023 Season Rates – Beginning January 1, 2023

Family
Pickleball Membership
---
$800 Joining Fee
$155 per month
Couples
Pickleball Membership
---
$600 Joining Fee
$140 per month
Singles
Pickleball Membership
---
$400 joining fee
$90 per month
ESTC will continue to expand accessibility and courts as we grow our pickle ball membership.

Membership also includes access to fitness facility filled with state-of-the-art cardiovascular and strength training equipment, spa, locker rooms and the swimming pool when open.

For any questions regarding memberships, please call us at (541) 342-4414 or send us a message via e-mail at memberservices@estc.org.

Call or email us to schedule a tour of the club.